Recycling is constantly evolving. Your Urban Impact solution includes ongoing monitoring so we can 'right-size' services as your recycling needs change.
PLAN, EXECUTE, AND REFINE
PLAN
First, we generally recommend a site visit to review your site and space requirements. Then, we'll listen to your goals to develop innovative, customized solutions to meet your needs. We'll recommend the right type and number of bins to allow for your employees to easily use the recycling and shredding containers.
EXECUTE
Seasonal fluctuations in your operation may create more waste than usual, and different categories of waste may increase or decrease. Over time, our drivers monitor the volume of materials your business generates. We'll make recommendations to right-size your service frequency.
REFINE
We continuously monitor and right-size your services, collection bins and schedule around your:
Sustainability goals
Operational goals
Size of operations
Volume of waste
Timeline and budget
Dig Deeper with a Waste Audit
Do you know how much waste you are generating or what's in it?
The principle is simple: you can manage what you measure. An Urban Impact Waste Audit is a great way for businesses and organizations to learn about you waste habits and needs of their site with a clear snapshot of what you generate, how much you generate.
We sort and weigh your waste streams and provide a report that lets you benchmark your progress and set the bar to improve, with opportunities to cut your carbon footprint, increase diversion, and even save on disposal costs. Here's what we'll do:
Conduct a site visit
Tour the spaces where garbage is generated and handled
Inventory waste and recycling bins 
Take a quick look at what is in the garbage stream 
Provide you with a proposal for our recommendations on what to Audit
Complete the sample and audit report
Help you implement the changes that you would like to and;
Help you measure your progress over a reasonable time frame
Waste Audits are an excellent communication tool for tenants, students and other important stakeholders.  Waste Audits will also help you get valuable LEED points.
Gain a better understanding of your waste: know what you generate, how much you generate and where you generate it
Help you determine the effectiveness of your current waste management program
Benchmark current and potential diversion rates in order to monitor progress
Distinguish between high and low performing sections of your building(s) or operations
Identify the highest-potential, most cost-effective opportunities for increased source-reduction, reuse, and recycling
Increase internal awareness about waste generation and environmental issues
Enhance community and improve image and business relationships
Reduce solid waste management costs
Acquire points towards LEED and other environmental certification programs
Acquire current waste generation and diversion statistics for reporting purposes
Comply with corporate environmental requirements
Get closer to achieving zero waste!
A waste audit is a great tool for measuring your current waste and recycling efforts. 
It will snap shot your results into meaningful information that can be used to make improvements, measure results and educate your stakeholders. Waste audits can also reveal costly, wasteful problems or unlock opportunities like new revenue streams. Every site is different, so we tailor our audits to you, choosing the waste streams, site divisions and material categories to be analyzed. We can perform the audit at our recycling facility, or, if you want your staff to observe or participate, we'll come to your site and do it right before your eyes.
Following the audit we will prepare an official waste audit report that contains:
A project overview
Photos of what was found in the waste stream
Waste composition and diversion statistics
Easy-to-understand charts and tables
An audit report with recommendations for improving your existing system and results
Following a waste audit, our team will work with you to develop a recycling plan that suits the individual requirements of your operations. A tailored waste management plan can deliver real benefits in terms of cost management, improving recycling through source-separation and reducing waste disposal to landfill.
Our customers also benefit by receiving reporting tools that will show positive change post-audit implementation.
What's Different about Urban Impact's Waste Audit
We are not a consulting firm. We are a full-service waste and recycling company.
That means we can actually help you act on audit results and improve your waste management system. If you want to get a better idea of your waste management situation, but aren't sure how deep you need to go, no problem. Urban Impact offers a full range of waste audit services and can recommend a tailored waste audit process that suits your current volume and recycling.
Contact us to find out more. One thing we definitely won't waste is your time.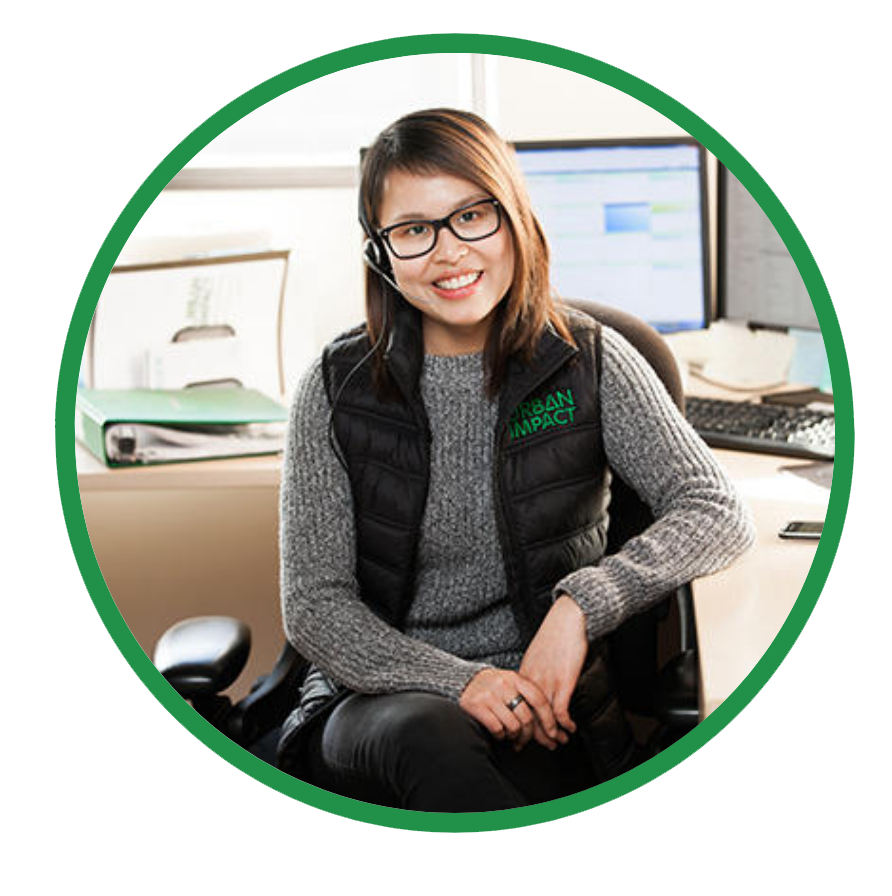 Your Recycling Customer Service Specialists
Regularly scheduled onsite shredding, one-time shred services, or hard drive shredding- it's easy to get started.
HOW CAN WE HELP YOU TODAY?
Learn more, arrange a pick-up or get more details on our services. Our friendly team is waiting to get back to you.