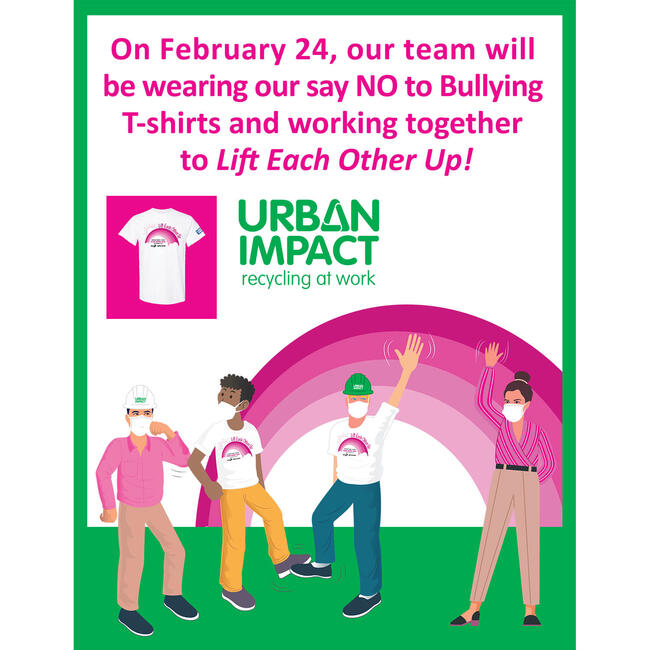 On February 24, Urban Impact will be taking a stand against bullying!
Each year, our CEO Nicole asks our team to support Pink Shirt Day and Anti Bullying programs by wearing pink t-shirts.  We've proudly supported Pink Shirt Day since 2016.  
Urban Impact is committed to being an inclusive workplace.  Supporting Pink Shirt Day was a really great way for us to facilitate the powerful message of anti-bullying to our staff, customers and the community. We're proud to help increase awareness of the anti-bullying movement and promote one of the values we hold dear: kindness.
Did you know that 1 in 5 kids are affected by bullying? Being bullied affects so many people physically, emotionally and mentally.  
The Covid-19 pandemic has affected us all and shown us the importance of helping one another, being kind, patient and advocating for those who need it certainly rings true now.
On February 24 the Urban Impact team will be wearing "Lift Each Other Up" T-shirts, which feature a rocket ship blasting off and the phrase "Lift Each Other Up." For 2021 the "Lift Each Other Up" T-shirts were designed in white not pink so that we can also continue to wear them year round as a staple tee! 
Net proceeds from the sale of t-shirts are distributed through CKNW Kids' Fund to support youth anti-bullying programs including Kids Help Phone, KidSafe Project and Boys and Girls Clubs of Western Canada.  Click on the link to find out more about PinkShirtDay.
We are excited to support Pink Shirt Day and anti-bullying programs that encourage healthy self-esteem and teach empathy, compassion and kindness. 
Urban Impact has 13 Cultural Values, 7 of which are centered around our people and several of them focused on how we treat our people.  Our values include:
Genuinely care about the people we work with, we are a flexible and fair employer

Support staff's health and wellness

Recognize and reward employees for contributions

Have a positive, respectful, high energy, productive workplace

Support and encourage staff's personal and professional development
We are happy that our values marry with this important Anti Bullying day.
Be Kind.
On February 24, 2021, we encourage everyone to practice kindness and wear pink to symbolize that you do not tolerate bullying.
About Pink Shirt Day
In 2007 in Nova Scotia, Grade 12 students David Shepherd, Travis Price and a few friends saw that a Grade 9 student was being bullied for wearing a pink shirt on the first day of school.
They knew they had to do something to show that this kind of behaviour was not OK.  Now a movement celebrated across the globe, Pink Shirt Day has humble beginnings. Inspired by an act of kindness in small town Nova Scotia, CKNW Kids' Fund, working with partners Boys & Girls Clubs and CKNW 980, was inspired to raise funds to support anti-bullying programs.  To date, the Fund has raised more than $2.55 million for youth anti-bullying programs throughout British Columbia.