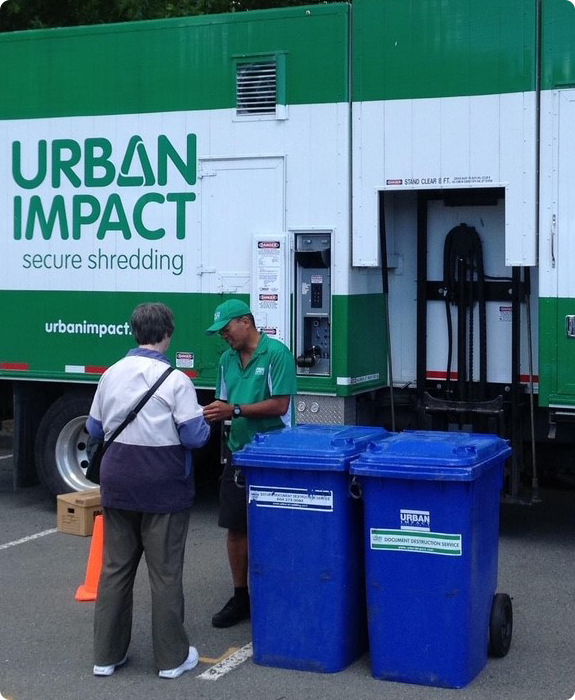 Raise money for charity
COMMUNITY SHRED DAY EVENT
Urban Impact is committed to serving the communities in which we work. It is a privilege to serve our customers and one of the ways we try and support our communities is by helping local charities raise funds for their worthy causes. In 2021, Urban Impact supported eight local charities to operate a Community Shred Day. They collectively raised over $30,000 for their causes!
Community Shred Days provide a valuable service to your community. Shred Days allow the community to securely shred sensitive documents, such as private documents, uncashed cheques, credit card statements and insurance records, right before your eyes, while raising money for a good cause.
UPCOMING DATES
Saturday September 23, 2023: Surrey Hospice Society
Address: 7138 King George Blvd. Surreys
Time: 10 am – 2 pm
Saturday October 14, 2023: Communitas
Address: 2776 Bourquin Crescent, Abbotsford
Time: 10 am - 1 pm
Interested in 2024 Shred Event? Learn more!
Organizing a charity event
How to Work with Urban Impact
If you are considering a fund raiser a Community Shred Day might be a great opportunity for you!
Urban Impact will provide an on-site shredding truck and driver for your Shred Day Event.
Charities raise money by asking participants to donate a fixed amount per box that is shredded. We recommend a minimum of $20 per box.
Fund raising efforts do vary, but a well-organized and publicized Shred Day can help raise several thousands of dollars in a 4-hour event. These events do take some effort to organize and operate, and work well in conjunction with another event or fund raiser.
Urban Impact has created this Best Practices Guide to help your event operate safely and efficiently.

Start a Shred Day!
Urban Impact is proud to partner with businesses and not-for-profit organizations in hosting Community Shred Days.
Urban Impact commits to several Shred Days yearly. Application are accepted from November 15 - January 15 every year. At the end of January, we announce the dates and the charities we will support. Application submitted outside of the acceptance time period will not be consider.
If you are interested in applying, please read our application submittal guidelines.
Please make sure to:
• Take the time to review the Shred Day Best Practices document to consider all the factors that contribute to a successful event.
• Submit your application and and request between November 15th and January 15th.
Consider these important recommendations when planning your Shred Day fundraiser:
• We recommend scheduling it on a Saturday between 10 AM and 2 PM.
• Saturday of a long weekend is not recommended
• Set the rate that you would like to charge per box. Fundraising for your organization is of course the objective. We ask charities to commit to charging $10 per box. This is competitive rate helps you maximize your fundraising dollars and provides value to participants.
• Please include a brief description of how you will promote your event.
• Organizers of the Shred Day event need to ensure that a minimum of four (4) volunteers are available during the entire event. Volunteers should be assigned to assist with traffic control, unloading vehicles and collecting donations.
If your event meets the above recommendations, please fill out the form to confirm your truck and driver
We are look forward to hearing about your event and the dates that would work for you!
URBAN IMPACT AT WORK IN YOUR COMMUNITY
Check out our video of a community shred day!
WHY WORK WITH URBAN IMPACT?
Providing a safe and secure way for your community to protect its personal information and destroy confidential documents is one of the ways Urban Impact gives back to our communities.
We are experts in documentation shredding.
Our uniformed, bonded and insured and security-trained drivers bring a truck to a pre-defined location. Our shredding trucks are fitted with huge, industrial "pierce and tear" shredding equipment that quickly and securely destroys your documents. Don't worry about removing things like staples or paper clips. Our trucks take care of that for you!
Urban Impact will issue a Certificate of Destruction for your records, upon request.
For every tonne of paper recycled, it saves seventeen trees!