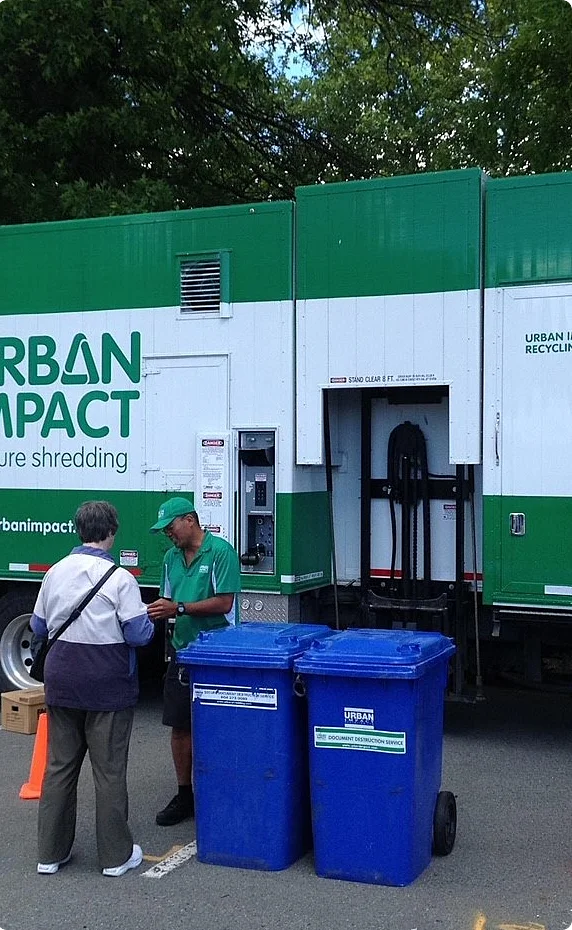 Raise money for charity
COMMUNITY SHRED DAYS
Urban Impact is committed to serving the communities in which we work. It is a privilege to serve our customers.
One way we have been able to give back is to provide a Community Shred Day with the proceeds going to charities. Urban Impact will provide an on-site shredding truck and driver for a Shred Day event. These community events are a great way to raise money for community charities.
Community Shred Days gives you and your neighbours an easy way to securely shred sensitive documents, such as passports, uncashed cheques, credit card statements and insurance records, right before your eyes.
If you are considering a fundraiser, a Community Shred Day might be a great opportunity for you!
Charities can ask for participants to donate per box delivered for shredding or propose a set amount to charge per box. We recommend a minimum of $10 per box. Fundraising efforts do vary, but a well-organized and publicized Shred Day can help raise several thousands of dollars.
Urban Impact has many tips to ensure that your Shred Day event raises money, operates safely and efficiently, and helps your community recycle sensitive documents.
UPCOMING DATES:
Sat Sept 24th - 10 am - 2 pm to be located at Seaquam Secondary School 11584 Lyon Rd, Delta, BC V4E 2K4.
Sat Oct 1st . Communitas shredathon - 10 am - 2 pm. #103 - 2776 Bourquin Cres. West, Abbotsford, BC V2S 2Z8
URBAN IMPACT AT WORK IN YOUR COMMUNITY
Check out our video of a community shred day!
WHY WORK WITH URBAN IMPACT?
Providing a safe and secure way for your community to protect its personal information and destroy confidential documents is one of the ways Urban Impact gives back to our communities.
We are experts in documentation shredding.
Our uniformed, bonded and insured and security-trained drivers bring a truck to a pre-defined location. Our shredding trucks are fitted with huge, industrial "pierce and tear" shredding equipment that quickly and securely destroys your documents. Don't worry about removing things like staples or paper clips. Our trucks take care of that for you!
Urban Impact will issue a Certificate of Destruction for your records, upon request.
For every tonne of paper recycled, it saves seventeen trees!