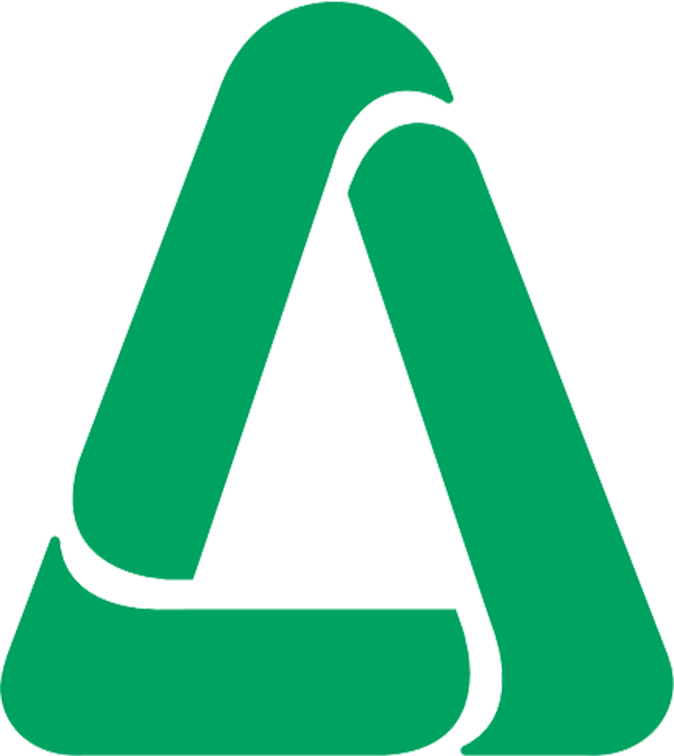 Who We Are
Recycling and waste diversion was a new concept in the early 1990's. Back then recycling was a bit radical. Urban Impact launched as one of the first multi-material recycling company in Metro Vancouver, British Columbia. Efforts to convince businesses to recycle and divert waste from landfill took time to catch on as a business norm.
Urban Impact began as a one truck, one person operation assisting a few local West Side Vancouver restaurants and bars with their recycling efforts.
Urban Impact recycling and diversion programs were able to accelerate as recycling started to become accepted as a good business practice.
In addition, the regional district implemented material bans at landfill – incentivizing businesses to divert paper and cardboard and gradually adding many other materials. Urban Impact focused on delivering innovative solutions to a wide range of commercial customers who were looking to improve their sustainability processes, goals, and reporting. We have always focused on the customer first, and this commitment, we believe is a big part of our success today.

Our Team
Over the past 30 + years, we have grown significantly and now service a wide range of customers. As we have grown, our goal always remains the same:
We streamline waste and recycling services with a keen focus on serving our customers first, diverting waste from landfill and improving our and our customers environmental performance.
We know that one of the key differentiators for Urban Impact is the dedicated teams that manage and operate our divisions. Without their commitment and expertise we could not compete in a market place with plenty of choice and other service providers.
Urban Impact operates with a set of thirteen corporate Cultural Values. The first and most important of our values is:
Safety is our priority, always.
As a company we are committed to training and supporting our teams in best safe work practices through training, evaluation of hazards and workplace practices an prompt incident reviews so that we can improve our safe work practices constantly and consistently.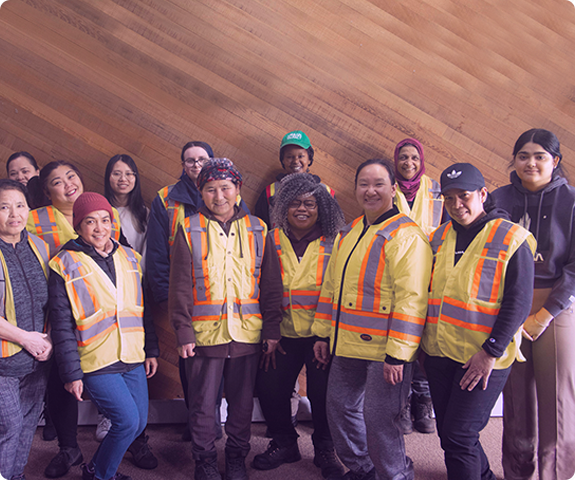 The fantastic group of people who make up our Urban Impact teams are what makes a difference!
We have each others back, and always look within to promote and develop our talent and expertise. With opportunities to grow and expand work and life skills we hope to attract new and retain our existing team members.
Our Commitment to our Customers
Urban Impact helps our customers achieve their waste reduction targets and goals and support our customers in diverting waste from landfills with a robust set of services that include waste and recycling, shredding and product destruction, and waste diversion consulting, waste and recycling auditing and reporting.
Our commitment to our customers is first and foremost focused on delivering services safely, each and every day. A complimenting priority and commitment is to deliver an outstanding customer service experience for our customer base.
OUR HISTORY
Urban Impact was started in 1990, originally the company was called Project Recycle. The beginning was humble and simple – 1 truck, 1 staff member and a handful of customers who were committed to waste diversion.
In the late 1990's and early 2000's Urban Impact acquired several smaller recycling companies and incorporated their services into our lines of business.
In 2000, Urban Impact expanded from just collection services and opened a baling facility in North Richmond. Over time serves expanded to processing of all grades of paper.
In 2006, Urban Impact acquired a company called Waste Not Recycling. This acquisition transitioned us from a smaller to a medium sized locally owned and operated service provider.
In 2008, Urban Impact acquired Best Recycling of New Westminster and expanded to two Material Recovery Facilities.
In 2020, Urban Impact sold the Richmond facility and moved our Trucking operations from Richmond to our Spruce Street facility in New Westminster - 1 block away from the New Westminster Plant.
Operations today focus on the two operating teams and locations. Centrally located allows for excellent access to both western and eastern parts of the Lower Mainland.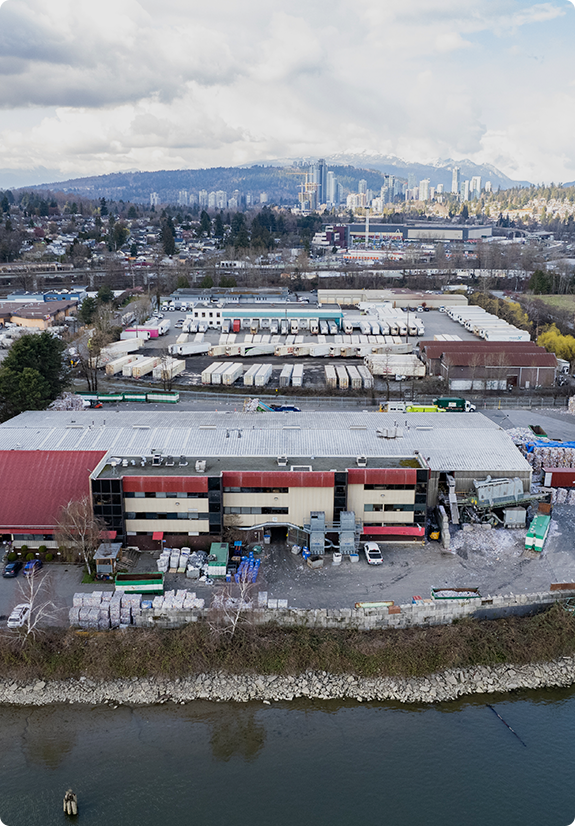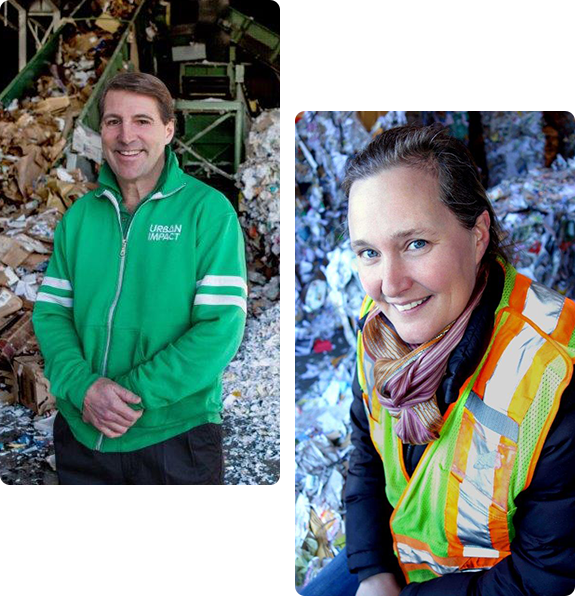 Our Founders
For over 30 years, Nicole Stefenelli and Rod Nicolls have worked together to build Urban Impact. This husband and wife and business partnership is a local entrepreneur success story, rooted in serving the customer first and supporting our customers goals.
Founded by Nicole as a University project, Urban Impact has expanded its services from a few restaurants and bars on the West Side of Vancouver to more than 7,500 pick-up locations with customers between Whistler and Chilliwack.
Urban Impact operations have grown to include our own Materials Recovery facility located in New Westminster BC. This facility provides processing services to a wide range of customers for both source seperated and single stream materials.
Today, Nicole and Rod, in conjuction with the senior leadership team, continue to work on innovating, expanding and ensuring the success of Urban Impact for its current and future employees and customers .
Did you know?
FUN FACTS
Urban Impact services approximately 7,500 pick-up locations from Whistler to Chilliwack.
70% of our team members identify as new Canadians.
Our team members speak 14 different languages.
We are owned and operated in British Columbia.
Our customer service team is based locally in British Columbia.
Our CEO is female and 18% of our workplace are women and growing yearly.