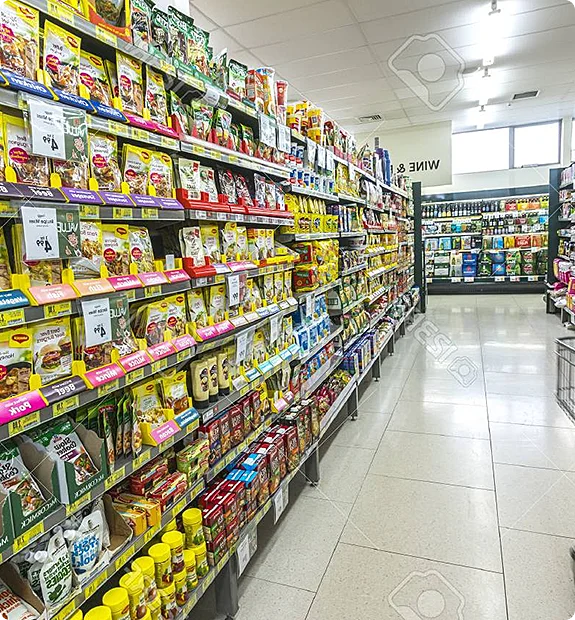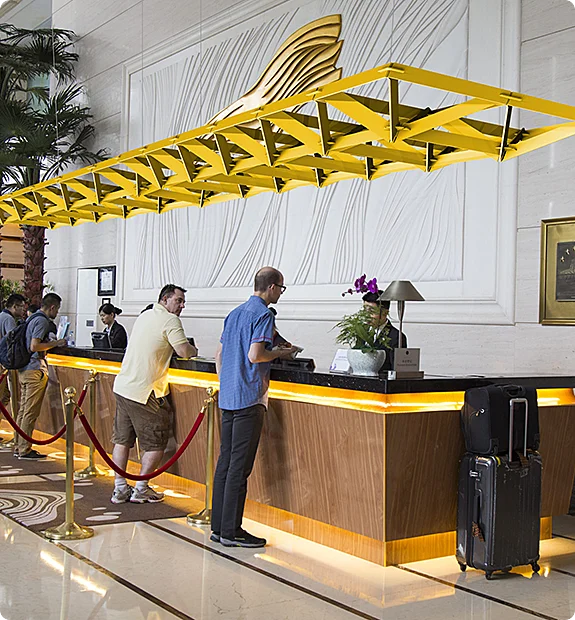 Hospitality
AT YOUR SERVICE
Urban Impact has created a special menu of recycling services tailored for restaurants, hotels, grocery and other hospitality businesses.
Achieving Zero Waste is obtainable by optimizing waste and recycling systems, diverting more from landfill, saving money and resources.
Through our custom solutions, we have a full range of waste, recycling, shredding and reporting services; flexible scheduling and a wide range of containers. Urban Impact caters to your needs.
We specialize in large volumes of:
Cardboard and paper
Mixed Containers
Organics
Electronics & small appliances
Batteries
Styrofoam
Soft plastics
Garbage
Cleanliness and organization is key in creating and maintaing a successful waste program. Urban Impact offers a few unique services to keep waste and recycling areas clean and functional.
Our proprietary trucks help keep recycling areas clean and odour free by washing out organics bin at every pick-up.
On-demand or scheduled service
Seven-day-a-week cardboard pick-up service
Pick-up and rebate on beverage containers
Urban Impact knows the unique challenges of the hospitality industry. From finding the right location to place bins, to ensuring recycling areas are clean and accessible, Urban Impact has a solution to fit your requirements.
Ring The Bell
FIRST CLASS CUSTOM SOLUTIONS
Urban Impact will review the volume, type of waste, space limitations and specific operational requirements during a complimentary site visit. Understanding what is working, or not, for your specific location and business type, we can create the right program to meet your needs.
Our recommendations may include adjusting bin sizes and location of the bins, frequency of service and placement of signage and communications.
Our custom solution is designed to help you and your customers increase their engagement and participate in recycling programs.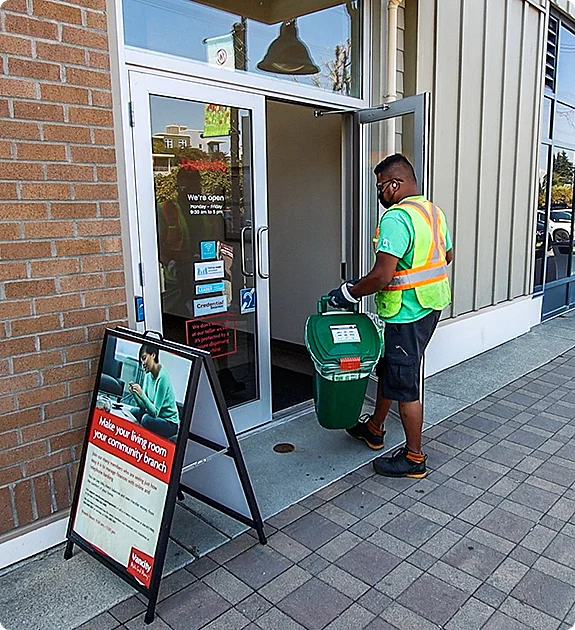 WITH EASE, COMES SUCCESS
For more than 30 years we have been helping hospitality customers increase adoption and participation in their recycling efforts. Urban Impact has a few simple pillars that make recycling programs easy and successful.

Bin There, Done That
Having the right combination of bins placed in accessible locations is the first step in creating a recycling program where everyone will participate. Urban Impact will provide you with the right bins for your space, in the right location.

Signs and Labels
With well-defined signage and labels, getting full participation is easy and straightforward. Urban Impact provides easy to follow "Yes" and "No" lists to place around your location.

The More You Know
We believe in helping your team understand how your recycling program works. Our lunch and learn training sessions provide a conversational opportunity for your staff and customers to learn and ask questions about their specific recycling program. Sessions are virtual and tailored to fit your unique program

There's an App for That
Downloading our Recycling App onto your smart phones puts the answers in your hands. Instantly find out what materials are recyclable and where to put them.

All The Time
Pick up times and frequency are especially important in hospitality environments. Urban Impact has a flexible team and a robust routing system to ensure we can meet your specific requirements.

Report Your Success
At your request, Urban Impact can provide and accurate quarterly or annual reporting. Measuring and reporting your diversion efforts helps with compliance and can also increase participation.