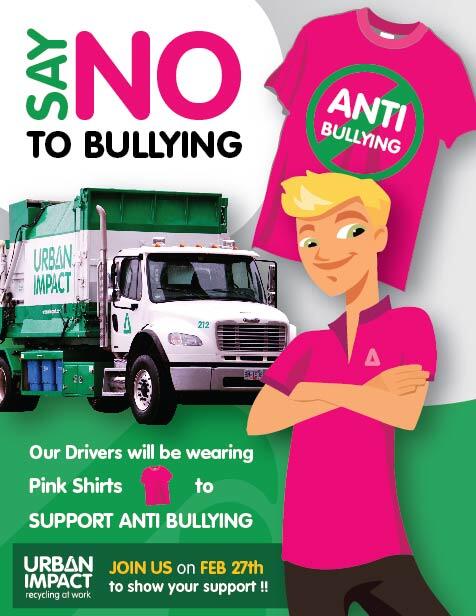 #PinkShirtDay was full on again today at Urban Impact!
For the last four years, the entire Urban Impact team participated in Pink Shirt Day by wearing Anti Bullying pink t-shirts.
Bullying is a major problem in our schools, workplaces, homes, and over the Internet.
Urban Impact is really proud to wear pink to stand up against bullying and harassment.
Over the month of February, and throughout the year, CKNW Kids' Fund's Pink Shirt Day aims to raise awareness of these issues, as well as raise funds to support programs that foster children's healthy self-esteem.
Funds raised through official Pink Shirt Day merchandise sales and donations to help hundreds of kids affected by bullying.
Since it all started back in 2007, the CNKW Orphan's Fund have raised over $2.1 million for anti-bullying initiatives in BC, helping support children's self-esteem, empathy, compassion and kindness.
Urban Impact went fully pink today!
Employees wore pink t-shirts, our recycling trucks sported pink bows on their front grills, and we awarded teddys dressed in pink shirts to the team members that really embraced #PinkShirtDay @UIRecycling.
We also served the so popular Moore's Bakery Pink T-shirt cookies!
This year 's PinkShirtDay theme was Cyber Bullying – something that is more prevalent than ever.
We loved #thinkingpink on February 27th and sending a message that kindness matters. A simple act of wearing a pink shirt can start conversations - conversations can that we hope will be a big step towards healing and helping!