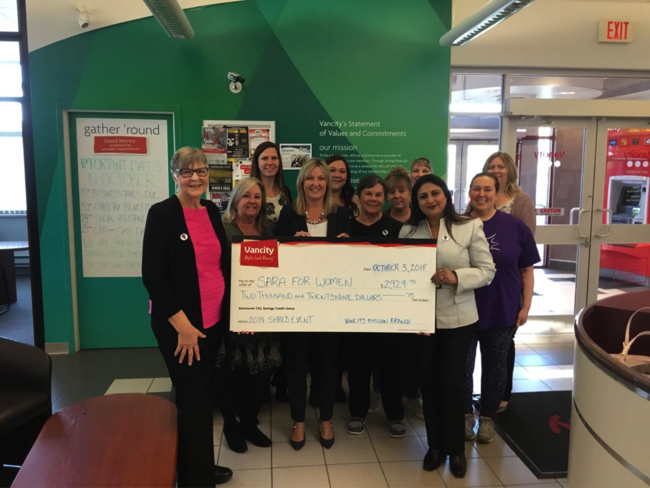 Urban Impact is proud to partner with a number of organizations to help them to host Shred Days in the community.
We recently partnered with Vancity's Mission Community Branch.  Urban Impact provided our onsite shred truck and a shred driver to help Vancity raise funds for SARA for Women Society.
There is nothing more rewarding than receiving a nice thank you from Vancity to let us know the really positive outcome from a Shred Day.
We love sharing the feedback we received, plus the photo of the cheque presentation:
"The Shred Day was a very fun and successful event! Together we raised $2929.75 for the SARA for Women Society – . They are an amazing not for profit in our community who offer many services, including First & Second stage housing for women and children who are fleeing domestic abuse. Their program is very thorough, and aims to equip these women with affordable housing, support through learning and training programs, and helping them overcome barriers so they can reintegrate into the community and be able to support themselves on their own. We are very proud to support them with this event. Thank you to Urban Impact for joining us for this fabulous even"
Jennifer M, Vancity Mission Branch
For more details about SARA for Women Society
http://saraforwomen.ca/