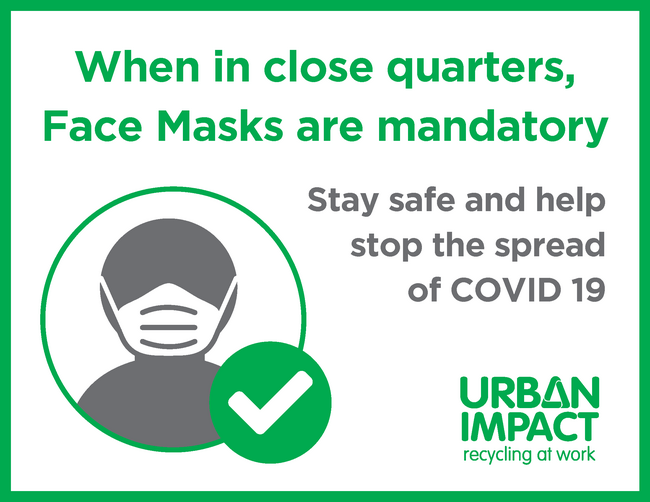 We're working hard to keep customer and employees safe during COVID-19!
Safety is our priority, always. 
Urban Impact is committed to do everything we can to ensure the health, safety and well-being of our customers and our operating teams.  
To ensure the safety and wellbeing of our community and adhere to provincial and public health guidelines, Urban Impact has developed a COVID-19 Safety Plan. This Safety Plan itemizes what Urban Impact is doing to protect its employees from exposure to COVID–19 at work, by assessing risk and implementing protocols, and through the development and implementation of safe work procedures. This is a living document - we are continually reviewing and amending our COVID Safety Plan. 
In this unprecedented and challenging time, we continue providing essential waste and recycling services. We want to share our updated Phase 3 Response Plan and our dedication to continue supporting the communities we serve.
Phase 3 RESPONSE PLAN
Like all businesses, we are following social distancing guidelines, including limiting the number of people in our facilities, implementing traffic flow in our facilities, requesting people maintain appropriate social distances during interactions to ensure they are complying with provincial orders.
To further ensure the safety of our customers and our team, we're asking all employees to follow these requirements:
Do not attend work if they have been out of Canada in the last 14 days.

Self isolate if they have been directed so by a public health authority.

Self isolate if they have been in contact with someone who is COVID 19 positive.

Per the requirements of November 13, 2020 Provincial Health Order, all staff must submit a Daily Health Check to ensure that they are staying home if they have any COVID 19 symptoms.

Wearing a mask is mandatory when you are inside place of work or at customer location.
 We are promoting and increasing our communication regarding:
Social distancing

Washing hands frequently

Sanitizing hands if washing not available

Wearing a mask when in side or one cannot socially distance

Appropriate Personal Protection Equipment

Sanitize their workspace.
We would like to thank our valued customers  for being patient, respecting the policies we have implemented to ensure the health and safety of our employees and customers and providing our teams with enough room to do their jobs so they can continue to assist you.