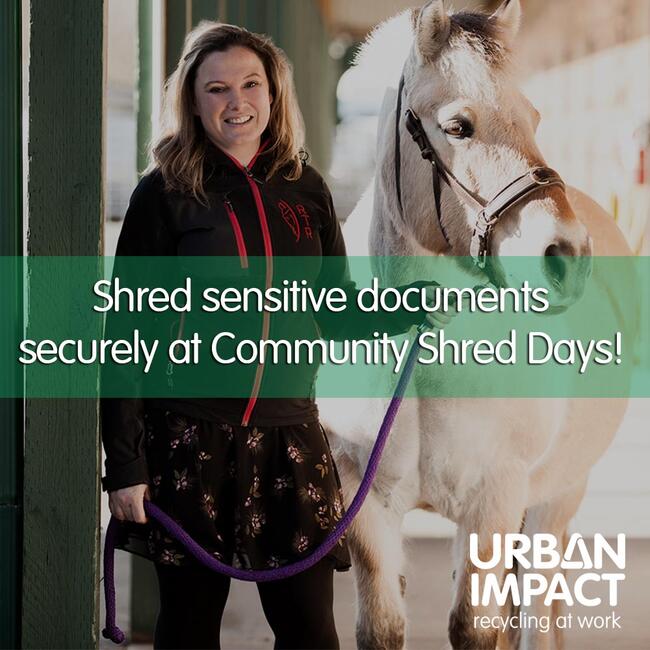 Community Shred Days
Clearing out old files and records? 


Don't let your sensitive documents fall victim to identity theft!


Identity theft and information - based fraud are one of the fastest growing crimes in Canada.
Most identity theft happens when people leave their sensitive documents such as confidential medical, financial records exposed!
Passports and SIN cards, uncashed cheques, credit card statements and insurance records — some of your most important, private information need to be securely destroyed!
Protect your personal information and destroy your confidential documents at a Community Shred Day.
Urban Impact is proud to support local charities and organizations at their Community Shred Days. We provide our secure shred truck and a driver to support the fundraisers.
At the Community Shred Day, shredding is by donation and proceeds benefit the various local community organizations.
*Please note, unfortunately, Community Shred Days with Vancity will not take place in 2021.
2021 Community Shred Days
Find a shredding event near you and protect yourself from fraud and identity theft.
Below is a list of the location, time, and date for the Community Shred Days will take place this spring:
AJ McLellan Elementary School Shred Day
Date: Saturday, March 27th Time: 10 am – 12 pm
Location: AJ McLellan Elementary School
16545 61 Ave, Surrey, BC V3S5V4
Ladner Elementary School Shred Day
Date: Saturday, April 17th Time: 10 am – 2 pm
Location: Ladner Elementary School
5016 44 Avenue Delta, BC V4K1C1
South Vancouver Community Policing Centre
Date: Saturday April 24th Time: 10 am - 2 pm
Location: 5435 Victoria Drive, Vancouver, BC V5P 3V9
Richmond Therapeutic Riding Association Shred Day
Date: Saturday, May 15th Time: 10 am - 2 pm
Location: South Arm United Church
11051 NO 3 RD, Richmond, BC V7A1X3
Please check out our website for upcoming Community Shred Days.
https://urbanimpact.com/shredding-services/shred-days