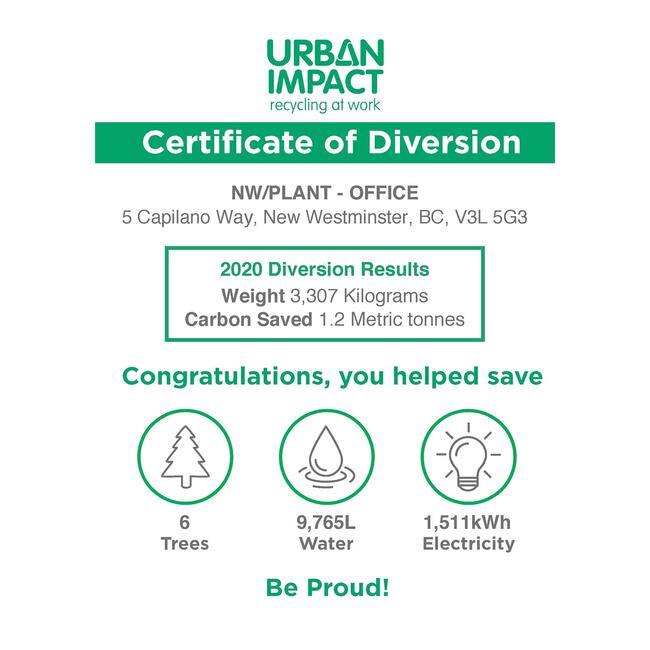 Urban Impact's Certificate of Diversion was designed to salute our customers' efforts for being responsible in matters of consumption, waste recycling and environmental management. 
The Certificate of Diversion:
Outlines how much material customers have diverted from the landfill in 2020

Estimates in terms of water, power and trees saved through their recycling efforts
At Urban Impact, we believe that sustainability includes dealing with waste in a responsible, cost effective manner through comprehensive recycling practices, education and participation.
With more and more people working to reduce their "Carbon Footprint", Urban Impact salutes our customers' recycling efforts.
You may notice that the 2020 Certificates of Diversion look a bit different this year - we have refreshed the look and feel of the Certificates through a new illustration style, however the information and process for calculating the results remains the same.
Some Interesting Paper Recycling Facts:
One metric tonne of paper recycling saves,
18.49 trees

28,957 Litres of water

4,480 kWh (kilowatt hours) of electricity
We would like to say thanks to all of you for your recycling efforts, helping us make the world just a bit greener and reducing your environmental footprint!
We are excited to announce that the fully electronic Certificates of Diversion are available by request.  To request your certificate, please send us an email at reporting@urbanimpact.com