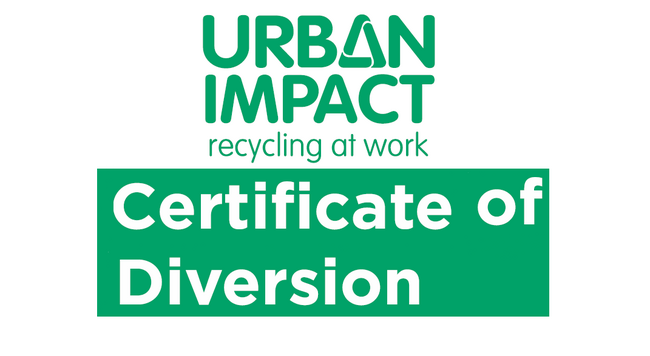 Urban Impact's Certificate of Diversion was designed to salute our customers' efforts in diverting materials from waste and redirecting them to recycling efforts.  Diversion or Diversion efforts is used to describe our efforts at diverting waste from landfill or final disposal.
Urban Impact's Certificate of Diversion: 
Outlines how much material customers have diverted from the landfill for the prior year.

Itemizes the savings in

Carbon Emissions, water, trees and electricity.
Urban Impact makes every effort to ensure that our customers have the right information to inform their teams and to make the right decision in diverting their waste from final disposal.  The yearly Certificate of Diversion is one piece of communication that we hope allows our customers to communicate and applaud their team's efforts and commitment to resource conservation and reduction in waste.
Urban Impact is proud that many customers display their Certificate in their main reception area, while some post on their website and social media sites.
Interesting Paper Recycling Facts
One metric tonne of paper recycling saves: 
18.49 trees

28,957 Litres of water

4,480 kWh (kilowatt hours) of electricity
We would like to say thanks to all of you for your recycling efforts, helping us make the world just a bit greener and reducing your environmental footprint!
We are excited to announce that the fully electronic Certificates of Diversion are available by request.  To request your certificate, please send us an email at reporting@urbanimpact.com
Frequently Asked Questions
How are the diversion numbers calculated?
The Certificate of Diversion are an estimate the total weight of the materials diverted from disposal.  The diversion weights are shown in kilograms (kgs).  In order to accurately document the diversion, we measure the weight of various materials in various bin styles and sizes. Urban Impact conducts a detailed study each year, where the outcome is to assign each of the materials an average weight per yard.  The Certificates of Diversion will consider the type of container that each customer is provided, the size of the bin, the # of bins and the different materials collected.
How do you determine the weight of an average bin?
We have collected a great deal of real-time bin weight data and used it to determine average bin weights. The weight study is updated yearly and its methodology has been consistent since the inception of all diversion reporting since 2012.
Please be updated, that the weight (kgs) per yard considers all services including Cardboard, Office paper, Mixed Containers (glass, metals and plastics ) and Organics.
Please also note Water / Trees/ Electricity / Carbon saved equivalents consider only paper materials.
Non-paper materials also result in environmental savings — energy in particular – but are highly variable depending on the specific material in question and are therefore not converted into equivalents for Certificates of Diversion.  In order to keep the diversion reporting accurate, we decided it was best not to include it.
Does the total weight diverted include all materials?
The weight diverted numbers include all traditional recyclables: all types of paper/fibre (including cardboard), glass, metal, rigid plastic, soft plastic, and compost. Certain materials are excluded: wood/construction waste and fluorescent light bulbs/tubes, as well as any materials collected using roll-off bins, compactors, bales, cages or pallets, and any one-time shreds/recycles. Unfortunately, the estimation methodology that we use cannot accurately account for these materials due to the sporadic and highly variable nature of these pick-ups.
What source does Urban Impact use to make the calculations for Water /Trees / Electricity / Carbon equivalents?
There are a number of standard, industry accepted calculations for environmental savings from recycling paper. Although there is some variation based on the type of paper recycled, the following figures offer a good general approximation that we use for Certificates (please note these numbers are sourced from the American EPA, so are in Imperial rather than Metric units – all numbers are converted to Metric Tonne).
Recycling one ton of paper saves approximately:
17 trees

2 barrels of oil

7,000 gallons of water

4,100 kilowatt hours of electricity

3.3 tons of carbon dioxide equivalents
Can I get an electronic version of my Certificate of Diversion?
Yes! Please contact our reporting department at reporting@urbanimpact.com  
Can I get the name on my certificate changed? multiple sites aggregated/disaggregated? previous years' certificates? more accurate weight data?
Urban Impact can make certain adjustments to your Certificate and provide additional reporting, but these services will come at an additional cost.
Why did I not get a Certificate this year?
Certificate of Diversion are delivered on a by request basis. If you did not receive one and would like one, please pop us an email and you'll be sent a Certificate and added to the distribution list for future years.