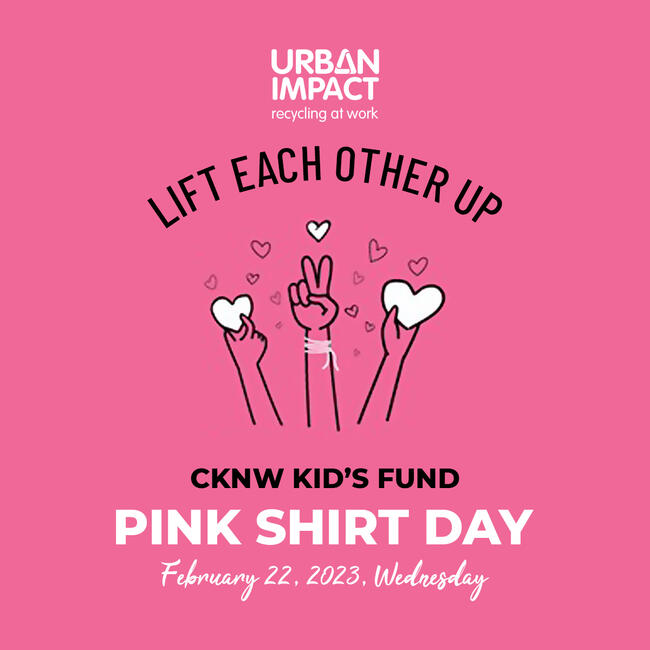 February certainly seems to be a month where we celebrate love and kindness.
First we start off with Valentine's Day, a day of chocolates, cute candies and letters of appreciation to our loved ones. On February 20, 2023 we acknowledge and celebrate those most near and dear to us on Family Day. We end February with Pink Shirt Day on February 22, 2023, a day of awareness and support of kindness and acceptance of others. 
Urban Impact has opted to embrace and promote the spirit and messaging of Pink Shirt Day.  A few years ago, when the #antibullying #kindness #stopbullying messaging began to gain momentum, as a team, we decided that this celebration and awareness was a message that resonated with our company and our core company cultural values. 
Each year we have taken the opportunity to celebrate internally and embrace the fund raising and awareness that this day brings to us all.  Our company culture is centered around people, our teams and our staff.  In our view, there was no better event or day that embraced our value around people. 
As with other years, we will make a donation to the CKNW Kids' Fund Pink Shirt Day and provide our teams with a pink item to wear on this day.  We have so many pink shirts from previous years, we felt it was time to #reuseandreduce those shirts for 2023.
Our world and communities hear so much about controversy, crime and war, we hope that this small gesture on February 22 allows us all to consider kindness over bullying, love and care of unkind acts or gestures and moments of compassion and tolerance.
We will do our very best to embrace the core values of Pink Shirt Day and help spread some kindness and care. We encourage you to join us!