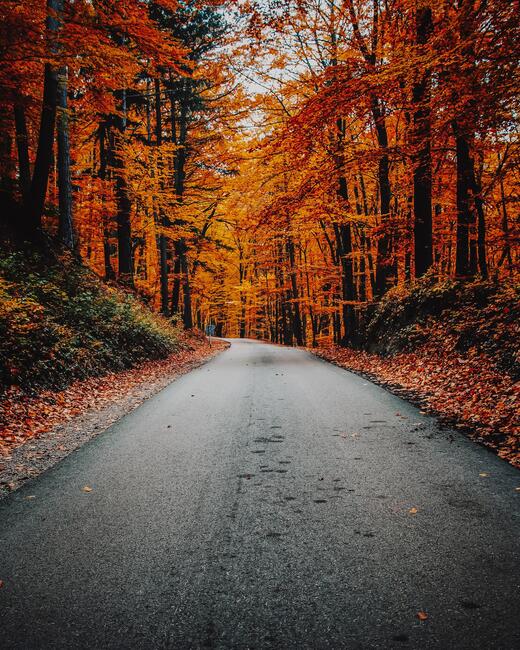 With the goblins, ghosts and costumes tucked away for another year, it's time for our annual falling leaves reminder!  As we have already seen, the leaves are beautiful shades of red, orange, and yellow but as they fall from the trees, along with heavy rain and wind, it creates hazards for our driveways.
Hazardous road conditions can result in delayed service. It's becoming commonplace that British Columbia's Lower Mainland will endure powerful winter storms throughout the fall and likely will have significant impacts on daily business operations throughout British Columbia. Like many transportation companies, Urban Impact will face the challenges of dangerous roadways due to these fall storms. Servicing our customers and safety for our drivers is top priority. 
Commercial truck tires are made of harder compound than residential vehicles, making operating these trucks in snow and slippery conditions a challenge. Even though our drivers are trained and know their abilities, there are limitations for drivers and their trucks when the roads of wet and slippery.  
To assist our drivers and help ensure timely service, we ask that you follow a few tips to ensure a smooth fall season. 
What you can do to prepare
•    Keep your surfaces as clear as possible – Clear leaves from road drains.  Clogged drains lead to pools of water, both dangerous and slippery.  Keeping driveways and alleyways clear and dry will make it easier and safer for our commercial vehicles to service your collection containers.
•    Work with your neighbors - If your containers reside in a communal alleyway, work with your neighbors to keep the area free and clear.
•    Change locations of your bins - If there's safer place for your collection bins to be serviced during winter conditions, please contact us to arrange for pick up at the new location.
Things to know about our trucks
•    Up Hill or Down Hill Road Ways - Any crown in the roadway or incline are extremely dangerous for commercial vehicles in rain, snow, and ice.  Our drivers are trained to recognize and anticipate slippery conditions and dangerous situations, however, if they feel that their truck will damage property or harm a person, they will not proceed.  
•    Slippery Slopes and Crowning Roads - Most roads crown in the centre, meaning the road is higher in the middle and lower on the sides.  While this crowning in necessary to help with water run-off, this minor undulation can have major impacts for heavy trucks, especially when icy.  Commercial vehicles can easily slip to the lower side of the roadway and get stranded.  The only way to get a commercial vehicle out of this situation is to clear the roadway so the truck can back out on a hard non-slippery surface or to call a large tow truck to have it winched out.
Our commitment is: Safety is our priority, always.
With a warm cup of cider, we appreciate and thank you for all you can do to keep leaves and debris off the roadways!