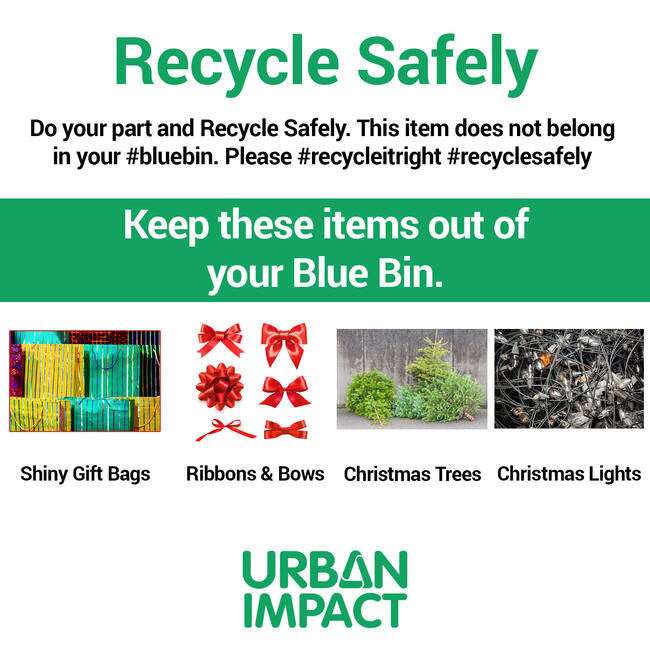 This holiday season, let's celebrate with less waste!
It's like we blinked and suddenly Christmas is just around the corner! We love this time of year! Do you know whether your recycling is naughty or nice? The Holidays are fun however they generate a lot of waste.
There are many items we see that either should not be in blue recycling bin or require a little extra care before being placed in your blue bin.  Quick Tip ~ make sure your  food and beverage containers are free of residue.  They don't have to be perfectly clean but empty is a great start!
Lights, tinsel and other holiday 'tanglers' will wrap around the recycling processing machinery creating work stoppages, equipment failure and potential harm to our employees.  Keeping these items out of the #bluebox all together is much appreciated.
The good news is much of what we use during the  holidays can be reused, re-purposed or recycled. If you want to do the right thing, we've listed some ways make your holiday season sustainable. Why not try doing just one thing differently to create memories and reduce waste this holiday season?
Shiny Gift Bags
Shiny Gift Bags do not go in your blue bin recycling. Gift bags with foil lining or non-paper decoration are not recyclable Glitter-free, non-laminated paper bags and wrapping paper can go in your recycling bin. Foil, cellophane and plastic coated gift bags are not recyclable.  The shiny bag with gold and silver foil might be tempting to put in the blue bin, but please don't. A general rule of thumb is that if you scrunch it up and it stays scrunched in a tight ball, it is paper-based and can be recycled. A gift bag can only be recycled if it passes the scrunch test - simple paper wrap can be recycled but foil or glitter-decorated paper cannot and needs to go in the garbage. Gift bags are the ultimate reusable gift wrap.
Why not try a more sustainable option and use reusable gift bags made of fabrics such as burlap, cotton and organza? You can make your own gift bags at home using recyclable materials (some of which you may have on hand already). This is a great activity for kids! You can also use plain paper that comes in rolls, like the brown kraft stuff used to wrap packages for shipping, and decorate it with string, leaves and twigs.
Christmas Ribbons and Bows
We'd like to remind you that as pretty as they make a package, the plastic-paper composite of most shiny bows, glitter, and ribbon are not recyclable. The good news is that they're probably the easiest Christmas item to reuse rather than recycle. Even if ribbons and bows lose their stickiness, a bit of tape makes them as good as new. 
While shiny curls of ribbon are pretty, In the recycling world, ribbon is what is known as "tanglers." Ribbon can tangle up plant equipment, potentially resulting in safety issues for workers and mechanical issues for recycling plant machinery. Keeping Christmas ribbons out of recycling can help keep recycling facilities running smoothly, efficiently, and safety. 
Ribbon and bows in good condition can be saved and used again. If you haven't bought your wrapping paper yet, consider more sustainable alternatives that are reusable, recyclable, or biodegradable. Try some creative approaches- why not skip the bows and ribbon and add a pinecone or sprig from your tree to give your gift wrap some rustic flair while being eco-friendly?
Christmas Trees
When the tree goes up, it also must come down! When the time comes to put away the holiday decorations and take down your Christmas tree, remove the tinsel and baubles from your evergreen and choose a sustainable way to dispose of your tree. You can take your tree to a transfer station for composting for a composting fee. 
You can also recycle your Christmas tree at a community tree chipping event! Tree chipping is an environmentally-friendly way to dispose of your tree. Many local not-for-profit organizations and clubs run tree chipping events after the holidays. This year, if you choose to participate in a community tree-chipping event, be sure to practice physical distancing, wear a mask, wash your hands, and abide by all COVID-19 safety plan requirements. Before attending, have your tree ready to chip by removing lights, decorations, or tinsel.
If you receive municipal Green Cart collection, just bundle your tree with string and set it out next to your Green Cart on collection day. Double-check with your municipal website to make sure what the requirements are for tree recycling. Just place your tree in the same location you set out your bins and be sure it is easily visible from the lane or street. Your tannebaum is turned into a nutrient-rich soil mulch. 
Old Christmas Lights
Have you unboxed your holiday decorations and found old broken Christmas lights? Did you discover that your lights no longer work? Old broken Christmas lights do not go in your blue bin. Recycling broken or burnt string lights can reduce holiday landfill waste.
In the recycling world, Christmas lights are what are known as "tanglers." They are known to tangle up plant equipment, potentially resulting in safety issues for workers and mechanical issues for recycling plant machinery. Keeping your old lights out of recycling can help keep recycling facilities running smoothly, efficiently, and safety.
Don't send your old lights to landfill. If they are burnt out, there's a solution that's free and environmentally friendly. In British Columbia, you can recycle all kinds of holiday string lights – from retro-style incandescent strings to LED garlands for free. Product Care Recycling offers more than 150 free drop-off locations in B.C. In 2019, Product Care Recycling diverted more than 11.6 million light bulbs from landfills. Recycling Christmas lights gives the various parts a new useful life.   Once holiday lights are dropped off at a recycling location, they are transported to authorized recyclers for processing. They are then separated into glass, metal and plastic so that the materials can be repurposed into new products.
Shopping online this year?
If you can't reuse the shipping materials,  find out how to recycle them. Gifts and online orders come in all sorts of packaging – soft plastic, foam, air pockets and more. If you can't reuse the packaging, do you know how to recycle it? Recycling rules vary by municipality. Check with Metro Vancouver Recycles to find out how to recycle shipping packaging where you live.
Holiday Naughty List
If you can't reuse or donate these items, please do not put these items in your blue bin:
Bubble wrap

Cellophane

Plastic bags

Christmas lights

Ribbons and bows

Batteries

Food packaging

Food waste

Clothing

Shoes

Holiday lights

Electronics

Styrofoam packaging
Have a designated sorter on Christmas morning.
Why not designate a Holiday sorter on Christmas morning to sort your Holiday waste into the right bins?
By making a few simple changes to your holiday festivities, you can reduce the amount of waste your family produces this year. Thank you for doing your part.  
Have a Happy and Safe Holiday and a Happy New Year!
#recyclingitright #recycleitsafely