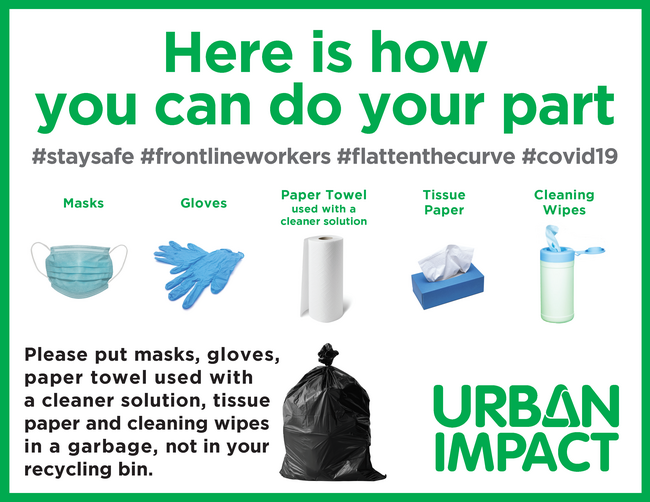 Prevent the spread of COVID-19
COVID-19 has certainly changed the way we interact, work, meet and socialize.  In Western Canada it has been a steep learning curve re what keeps us all safe during the pandemic, whereas other cultures have been practicing distancing, masks and hand sanitizing more rigorously than we have. 
We would like to share the best practices with you on how to keep your work space and our collection staff safe during the pandemic. 
All Personal Protection Equipment or PPE should be safely disposed of after use.  We ask that your janitorial team "Bag it and Tie it" to keep everyone safe.
To help prevent the spread of COVID-19 and keep our communities safe, we ask that you:
 

Please put masks, gloves, paper towel,

 

tissue paper and

 

cleaning wipes in

 

a sealed garbage bag, put these items in the garbage bin not in your recycling bin.

It is recommended that gloves are should be used when removing garbage bags, handling, and disposing of PPE or cleaning tissue paper and wipes..  

We recommend that you tie off and dispose of the PPE a minimum of once per day.

Place tied off bags in the garbage.

Remember to wash your hands frequently.
 Urban Impact's Commitment to our Community
We continue to monitor the COVID-19 situation very closely. We are following the guidance of the provincial government, WorkSafe BC and health authorities. Like all businesses, we are following new social distancing guidelines, including limiting the number of visitors allowed inside, instituting traffic flow measures and requesting people maintain appropriate social distances during interactions to ensure they are complying with provincial orders.
Following COVID-19 guidelines is a very important part of keeping our community free from disease and maintaining public health. Our drivers are trained and certified to provide a high level of safety and service. We continue to monitor the COVID-19 situation very closely
We continually monitor the health and safety of our employees, to ensure they have adequate resources to perform their job safely and efficiently.
Thank you for being patient, respecting the policies we have implemented and providing our drivers with enough room to do their jobs so they can continue to assist you.
#staysafe #frontlineworkers #flattenthecurve #covid19