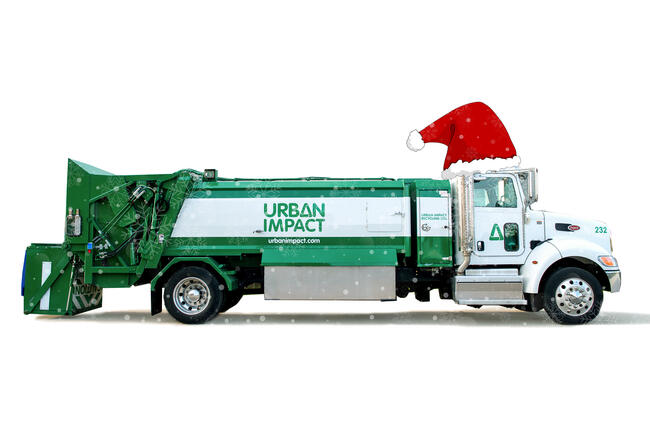 Its Christmas! It's the most wonderful (and often most wasteful) time of the year.
We all love the presents, parties and delicious food the holidays has to offer but let's face it, at the heart of Christmas if a whole lot of consumption and as a result, a whole lot of waste. Lights, food, trees, paper……. the list of items that increase house hold waste by 25% during the month of December really is endless.  But don't fret, things are improving. Luckily, most of these materials are now recyclable and what's even better, they've become significantly easier to dispose of responsibly, too.
We've created the perfect guide for reducing waste over the Christmas period without sacrificing any of that holiday cheer.
O Christmas trees, O Christmas tree, remember to recycle thee!
When the presents have gone, lights stored away and decoorations removed, make sure you toss away your Tannenbaum in the safest way possible this January.
City of Vancouver
Yet again this year, city staff and Lions Club volunteers are providing Christmas tree chipping events. So, if you live in Vancouver, make sure you get down to one of the following locations and ensure your tree ends up in the compost and not the garbage!
Where:
Kerrisdale Community Ice Rink parking lot (5670 E Blvd, north of 41st Ave

Kitsilano Beach parking lot (Cornwall Ave and Arbutus St)

Sunset Beach upper parking lot (Beach Ave and Broughton St)

Trout Lake Community Centre parking lot (3360 Victoria Drive, south of E 12th Ave)
When:   Saturday, January 5 and Sunday, January 6, 10am to 4pm.
If you can't make the chipping events then not too worry, Christmas trees can be collected via the Green Bin Service on the weekend of January 12 to 13, 2019. To ensure pickup, all tress must completely bare, laid on their side and set out by 7am on Saturday, January 12.
Richmond, Surrey and New Westminster
In Richmond, Surrey and New Westminster, your tree will be picked up from your curb on your regular collection day as long as it is cut into pieces three feet or shorter, bundled together and placed in your green bin for Richmond and New Westminster, or on your curb if you live in Richmond. Remember, make sure all decorations and tinsel are removed beforehand or risk having your tree not collected! 
Alternatively, you can drop off your evergreen at the one of following locations.
Surrey: Surrey Transfer Station at 9770 192 St.

Richmond: Ecowaste Industries at 15111 Williams

New Westminster:

New West recycling depot at 96 E. 6 St.
Note: Stay tuned after Christmas for local charity chipping events.