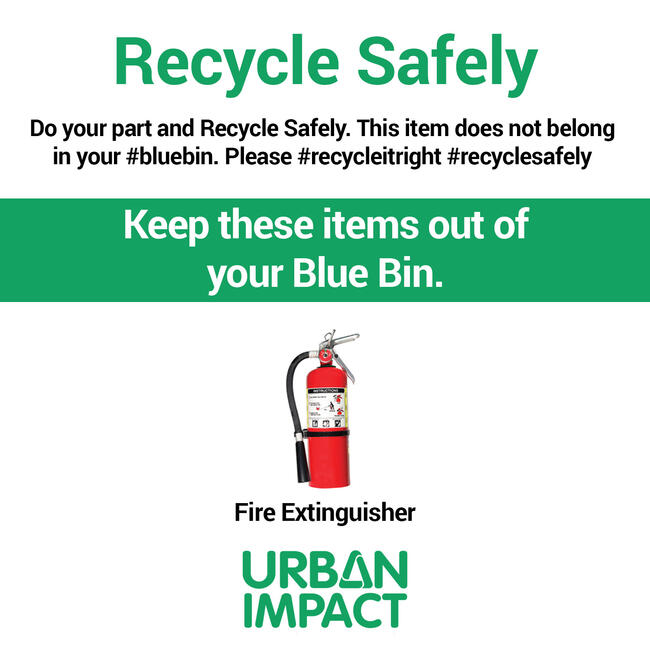 Do your part and Recycle Safely. This item does not belong in your #bluebin. Please #recycleitright #recyclesafely.
What can and cannot be put into your #bluebin is always a good discussion
What to put in the #bluebox can often be confusing to residents.  There are a lot of resources to help you out including:  Recycle BC website or your own municipality's website.   All of these sources have lists of what can and cannot go in the #bluebox.
To support this messaging, we have started a campaign this fall to highlight some of the items that are found in the #bluebox materials delivered to our plant.  Many of these items are recyclable but must be separated and sent elsewhere.

We hope that this photographic approach is helpful and is a great refresher for our customers and residents.  To help sort these photos and items, we have created #recyclingitright campaign.  Awareness of what you can and cannot put in the blue box is very helpful for all processors of the material.  We hope that our social media campaign is a straightforward reminder on what to do with many products such as: paint cans, paint brushes, fire extinguishers, batteries, lawn chairs and pots and pans.
To reduce contamination at our plant, Urban Impact conducts inbound waste audits and reviews contamination data. Recently, there has been an ongoing problem of increased contamination of non-recyclable items.  Contamination creates serious quality control issues. For example, items such as garden hose, propane tanks and clothing are being place incorrectly in blue box recycling bins. Contamination can cause health and safety issues for our workers and ultimately negatively impacts operating costs and the quality of recyclables we sell to various markets.
For recycling to work, we need to keep our recycling mix clean and free of non-acceptable and problematic items. To address the contamination issue, Urban Impact has created a #recyclingitright recycling education campaign to encourage behavior change towards proper recycling habits.  An important aspect of any recycling program includes developing targeted recycling education materials. Awareness of what can and can't be recycled is a big barrier to increasing diversion. Social media gives us a fun way to instantly interact with hundreds of individuals and share #recyclingitright tips with a wide and engaged audience on Facebook and Instagram.
Planning an engaging new consumer-facing social media campaign is a great way to remind the public about the importance of keeping the recycling stream free of nonrecyclable items and the importance of putting only acceptable materials in curbside recycling bins. For Urban Impact, social media has increasingly become a valuable tool to connect with new audiences, share information about #recyclingitright and influence behavior change.
In a time of packaging changes, it's becoming increasingly unclear for consumers what materials can and can't be recycled. Urban Impact's #recyclingright campaign was designed to motivate people how to recycle traditionally difficult-to-recycle waste streams and reduce recycling contamination.  Delivering simple, concise messaging is critical to the effectiveness of the campaign. Our goal is to educate people on how to make their recycling efforts count.
Recycling contamination is anything that finds its way into a recycling bin that does not belong there. Some examples of recycling contaminants are plastic bags, syringes, auto parts, mattresses, garden hoses, soccer balls, and pet waste.
To keep our #recyclingitright messages simple, we focused on a single contamination issue at a time, and a simple message to encourage behavior change. Our main campaign goal is to decrease contamination in each recycling stream, while also diverting waste from landfill. We schedule our daily posts to align with a targeted theme or idea each week. Throughout the week, we share tips and easy methods on how to recycle or properly dispose of difficult-to-recycle waste streams. For example, tanglers - like cords, hoses and chains - can disrupt the recycling process.
We include consistent, uniform messaging about how to recycle it right. We even direct users to a call the Recycling Hotline at 1-800-667-4321, allowing consumers to check if a material is recyclable in their area.  As a reminder, we end the campaign at the end of each week with a summary of the tips from the individual #recyclingitright posts. We want our messaging about #recyclingitright to make an impact!
The implementation of our digital marketing campaign is a staged approach. We will be promoting our "recycleitright social media campaign for the next three months. We aim to encourage as many people as possible to share the message of the importance of #recyclingitright and use the hashtag in posts so we can see and help spread the word.
Unlike traditional communication campaigns, where analysis is performed after campaign execution to measure the levels of audience engagement, data collection and analysis can be done during a digital campaign. We use the insights we gain to optimize outcomes and make decisions to modify the #recyclingitright campaign while it is live. The success of our recycling programs hinges on an active participant-base, and social media gives us the opportunity to craft highly engaging relationships with our customers—or better yet, reach new the public and help them learn how to #recycleitright
We should all keep recycling and always recycle right. Thanks for helping keep unacceptable materials out of curbside and workplace recycling bins.