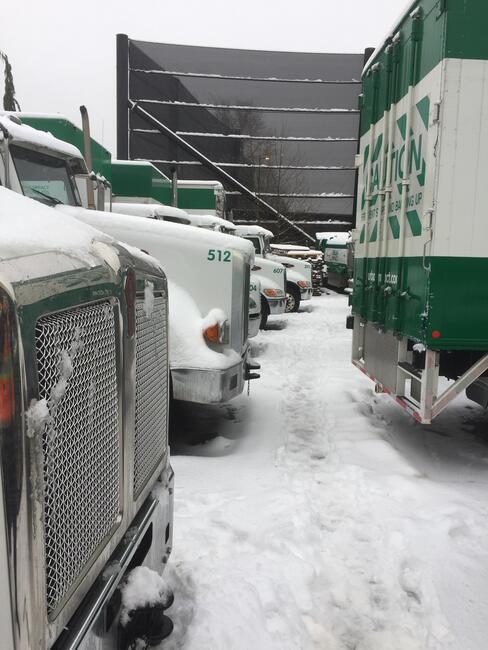 Winter is a time for cozy sweaters, hanging lights, and baking warm sweet treats. It is also the time of year when winter storms can make roadways treacherous for drivers. 
It appears this winter will likely continue to be snowy and icy creating challenges and having significant impact on day-to-day life for recycling and waste management business and shredding operations throughout British Columbia.  Urban Impact would like to share a few tips to help keep your service from being uninterrupted and keep our drivers safe.
Let it snow but …! 
•    Keeping your driveways and lanes clear with salt and ice is critical for allowing a commercial vehicle to service your collection containers. If your containers reside in a communal alley way, team-up with neighbors to keep the area snow and ice free.
•    Trucks must be able to arrive perpendicular to the container in order service it. If snow and debris is piled up against a container, our trucks are unable to service the container.  
•    Replacing your bins out of the weather is very helpful. If you have an alternate place to store your bins during the winter months, please contact us so we can move them this new location.
Hills and Inclines
Up or down, hills, inclines and declines can be dangerous for our commercial vehicles, especially in snow or slippery icy conditions. While our drivers are trained to drive in these winter conditions, if a pickup location is dangerous and our drivers feel that their truck or your property will get damage or harm a person, they will not proceed with the pickup.  
Most roads and laneways crown in the centre meaning the road is higher in the middle and lower on the sides.  While this crowning in necessary to help with water run-off, this minor undulation can have major impacts for heavy trucks, especially when icy.  
Commercial vehicles can easily slip to the lower side of the roadway and get stranded.  The only way to get a commercial vehicle out of this situation is to clear the roadway so the truck can back out on a hard non-slippery surface or to call a large tow truck to have it winched out.
Our commitment is: Safety is our priority, always.
Please keep driveways, lanes and roadways clear of snow and ice. 
We appreciate your support in helping our teams stay safe on their routes.  Please stay warm and dry!