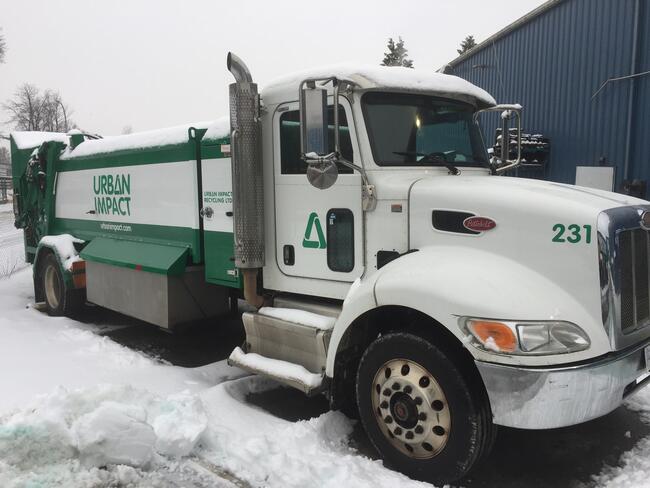 Winter storms in British Columbia's Lower Mainland have never been as powerful as they have been in the past few weeks. This year the cold weather, snow, and ice storms rival the winter conditions in the rest of the country.  The frigid and blustery weather conditions are having a significant impact on day-to-day life and business operations throughout BC.  On top of weather, the complexities of the global pandemic and its consequences certainly has been impacted us all, and quite frankly, we are all a bit worn down. 
The winter season certainly has many challenges for transportation and recycling businesses and waste and shredding operations.  With this winter being especially snowy and icy, we'd like to share some safety concerns and recommendations to help our industry provide our communities with safe waste and recycling collection services.
Safety Concerns
 A truck cannot service an outside container if there is snow piled up against the collection container.  Containers need to be free and clear so that a truck can arrive perpendicular to the container and service it.

Driveways even with the slightest crown in the roadway or incline are extremely dangerous for commercial vehicles in snow, ice, and slippery conditions.  Our drivers are trained to recognize and anticipate dangerous situations and if they feel that their truck will damage property or harm a person, they will not proceed.  Our commitment is: Safety is our priority, always.

Road or lane access to the collection containers must be clear and ice free.  Most roads and laneways crown in the centre (higher in the middle and lower on the sides), this minor undulation in the roadway is very impactful to heavy trucks on its surface.  This crowning of the road essentially neutralizes a commercial vehicle.  The commercial vehicle will slip to the lower side of the roadway and strand it completely.  The only way to get a commercial vehicle out of this situation is to clear the roadway to the point where they can back out on a hard non-slippery surface or to call a large tow truck to have it winched out.
How You Can Help
Salt and sand are critical to driveways and lanes – keeping your surfaces as clear as possible will allow a commercial vehicle to service your collection containers.

If your containers reside in a communal alley way – work with your neighbors to keep the area free and clear.

If you can find a safer place for your collection bins during winter conditions, please contact us to arrange for re placement of the bins.
Did you know commercial truck tires are made of a much harder compound than residential vehicles? This makes them less effective in snow and slippery conditions.  Even though our drivers are trained and know their abilities, there are limitations for drivers and their trucks working in winter conditions. 
We appreciate your support in helping our teams stay safe on their routes.  We truly apologize if you have been impacted and not received the great, prompt service you are used to. Please bear with us!
Happy New Year to you all!