Start to Finish
CONCIERGE SERVICE
Our Concierge Service provides one-stop comprehensive approach to maximizing recycling and waste diversion efforts in your business.
Our service begins with a free site visit to learn about your business, your locations and volume of material that you are generating. We will review the volume, type of waste, space limitations and specific operational requirements.
Once we have a clear understanding of your needs, we will prepare a custom proposal that incorporations our recommendations with your needs.
Set up or implementation of your waste and recycling system is planned to ensure seamless transitions or start up service. Our experienced team will be there to ensure your recycling bins are placed in the right location and to ensure everything is working seamlessly.
We take pride in our ability to provide large scale tailored waste and recycling solutions to manufacturers. Our solutions are customized to meet your needs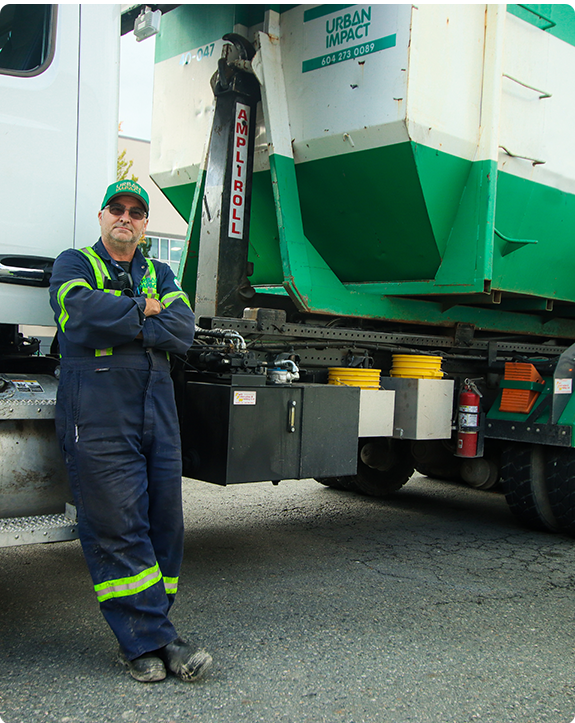 Designing and Building
SUCCESSFUL RECYCLING
Creating a successful recycling program includes design, communication, adoption and participation. Over the years, Urban Impact has refined success into these easy steps.

Bins and Equipment
The first step in achieving success is ensuring your manufacturing site has the right sized bins and other equipment that fits within your space and is in an easy-to-access location.

Label and Signage
Being able to easily see and read what gets recycled and where assists your teams in getting full participation. Urban Impact provides easy to follow signs that includes "Yes" and "No" to post and circulate amongst your team.

Education
Urban Impact provides educational training that gives your staff and customers a conversational opportunity to learn and ask questions about their specific recycling program. Sessions are virtual and tailored to fit your unique program. Increasing awareness and understanding on how your recycling program works is a key to your success.

Ask the App
Our Recycling App instantly helps your team find out what materials are recyclable and where to put them. This app is easily downloadable onto any smart phone.

Schedule Pick-Ups
Urban Impact offers scheduled or on call pick-up times and frequencies that meet the volume fluctuations in your manufacturing cycles. Our robust routing system gives us the flexibility to ensure we can meet your specific requirements.

Track and Report
Measuring and communicating your diversion efforts allows you to remain in compliance with your reporting requirements and can also increase internal participation in your program. At your request, Urban Impact can provide and accurate quarterly or annual reporting.