Styrofoam is everywhere! It secures items in packages and provides insulation in homes.
Styrofoam is identified by #6. 
Why Mixed Styrofoam Recycling is Important
Styrofoam is bulky and lightweight and takes up a lot of space in landfills. It won't break down on its own.
Being a banned material at local landfills, if Styrofoam is delivered to landfill, businesses can be fined for throwing it away. 
Avoid a fine on your garbage and recycle your bulk Styrofoam packaging. Urban Impact will make it easy for you to divert it from landfill.  
URBAN IMPACT HAS A COST-EFFECTIVE SOLUTION FOR EXPANDED POLYSTYRENE (STYROFOAM) RECYCLING
Urban Impact is committed to helping and supporting our customers move towards Zero Waste and their sustainability goals.  We are pleased to offer Styrofoam Recycling.
Urban Impact offers Styrofoam recycling services for all customers.  We can provide a regular scheduled service or if you prefer, we can provide an on call service as you accumulate the material.
Check out Your Styrofoam Recycling Containers
Recycling Services
96 Gallon Tote
30" (H) x 35" (D) x 43" (W)
Compactor
30"D x 60"L x up to 48"H
Mega bag
36" (H) x 36" (D) x 36" (W)
Cool Styrofoam Recycling Facts
About 98 percent of Styrofoam you hold in your hand is actually air.
Besides air, Styrofoam is made of oil creating a plastic called polystyrene that has the resin identification code of 6 printed on the bottom of every polystyrene product.
Styrofoam is a lot like a plastic bag: it can sit in landfills for centuries, and it's toxic when burned.
Dumping styrofoam into landfills is extremely harmful to our environment because it does not biodegrade.
An estimated 30% of all disposed Styrofoam resides in landfills worldwide, contaminating the earth.
Is Styrofoam recyclable? Absolutely it is. Styrofoam can be recycled and the recycling is benefit to the planet environment as well.
Most Styrofoam recovered for recycling is used to produce recycled content packaging.
Once Styrofoam is dissolved in a solvent, the resulting sticky mixture can be used as permanent glue for crafts and industrial applications alike
It's easy to recycle Styrofoam packaging!
General rule of thumb: usually furniture, appliances and electrical fixture are packed in Styrofoam.
Do you have large quantities of Styrofoam?
Urban Impact can help.
Now it's as easy as 1, 2, 3 to have your Styrofoam picked up and recycled.
Urban Impact provides on-call or scheduled collection services for styrofoam.

We will provide a storage container.
We take your material to a processing centre where it is safely reprocessed and recycled in a more environmentally useful way.
Please keep Styrofoam separated from all other classes of plastic and paper.  We do not accept food containers or pellets.
Downloadable Recycling Labels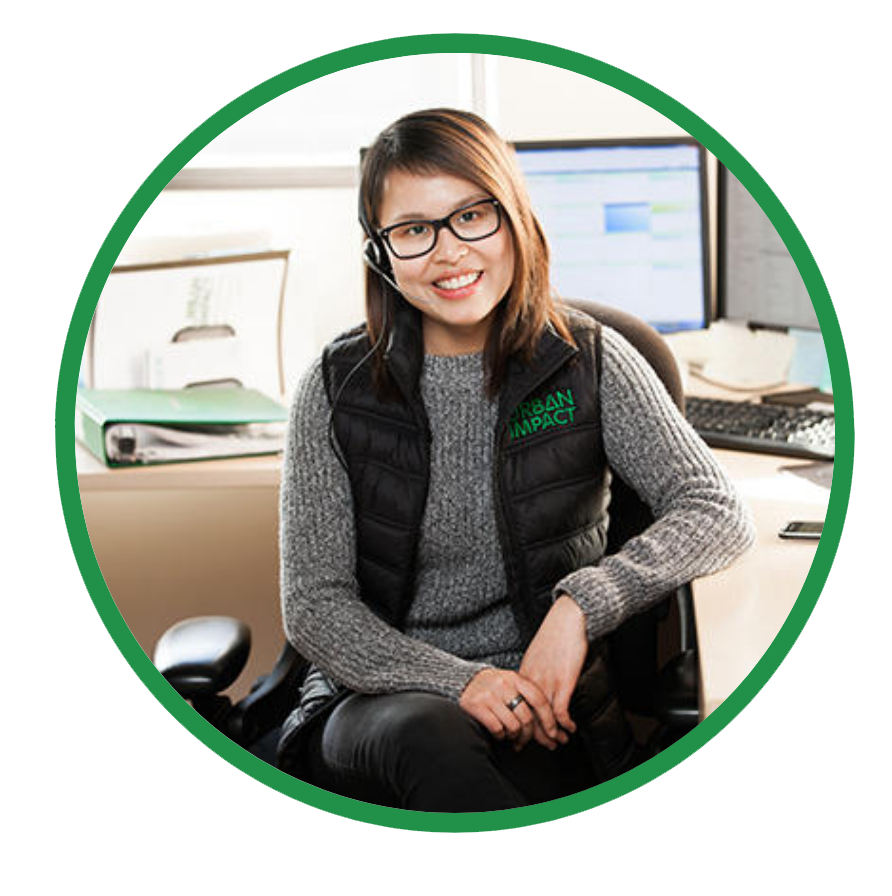 Your Recycling Customer Service Specialists
We work in partnership to deliver outstanding services and to make your recycling as easy as possible.